300 SL Testdrive Ends in Total Loss

March 27th, 2013
Imagine you have your cherished Mercedes-Benz 300 SL Gullwing in for a service at a facility specialized in iconic automobiles and then you receive a phone call of the like "Could you please come over here - we might have a problem...".

This might have been the kind of nightmarish situation the owner of this 1956 300 SL Gullwing just experienced in Germany. According to the Police in Ludwigsburg, Germany, the driver - a 26 year old mechanic, who was working at the shop where the car was maintained - lost control over the vehicle in a left hand curve and rolled it over.

The damage is estimated at Euro 650,000 - or US$ 845,000 - effectively totalling the vehicle under insurance guidelines. Certainly, even a damage like this could be repaired - and there might even be a market for a Salvage Gullwing - given the limited production of 1400 in from 1954 to 1957.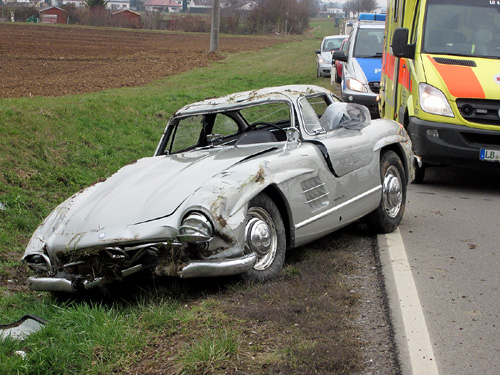 End of a test drive - the rolled over 1956 300 SL Gullwing resting on the side of Highway 1700 between Mundelsheim and Pleidelsheim, and close to Höpfigheim in Germany.
(Image courtesy Polizeidirektion Ludwigsburg, Germany)
Both, the driver and the passenger - an apprentice in the employment of the shop - made it through the accident unharmed as the police said. The owner of the totaled 300 SL Gullwing reportedly took the news in strive - hopefully the insurance will reimburse him quickly and without delay, so that he can shop for a replacement before the season is in full swing.



To be continued...