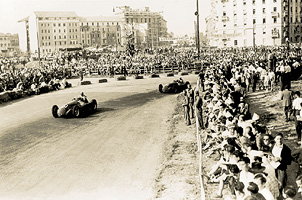 The Alfa Romeo Tipo 158 Alfetta, experienced a racing career that stretched over 14 seasons, 2 world championships, and 35 victories in major races. Photo courtesy of Aldo Zana





After WWI, the work of Vittorio Jano would have the biggest influence on the future of Alfa Romeo. His design of the P2 in 1924 would not only bring success on the race track, but also laid the foundation for one of the most desirable automobiles ever produced - the Alfa Romeo 8C 2900, first shown at the 1935 Paris Motor Show. The two 2900s participating in the Mille Miglia in 1938 finished in first and second place and averaged 84 mph over the 1000 miles run. A Touring designed streamlined coupe version of the 8C 2900 for the 1938 24 hours of Le Mans was the leading entry when it was forced to bow out due to a blown tire. Only an estimated 35 examples of the 'Two Nine' were finished before the end of production in 1939.
The Società Anonima Lombarda Fabbrica Automobili or ALFA started out in 1910 in the vicinity of Milan on an industrial site called Il Portello. Giuseppe Merosi, the chief designer in the early years, designed the first ALFA, a sturdy four-cylinder automobile with 24 horsepower. The first attempt to enter Grand Prix racing was made in 1914 - even though ALFA did not manage to compete internationally, mostly due to the outbreak of World War I. In 1915, with the company strained, ALFA went into receivership. The engineer and industrialist Nicola Romeo came to the rescue and integrated ALFA into his own company. Following World War I, all produced automobiles would bear the new, and now branded name of Alfa Romeo.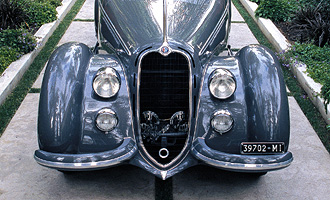 Alfa Romeo 8C 2900 - one of the most desired pre-war automobiles of Italian origin. Photo courtesy of David Gooley ©