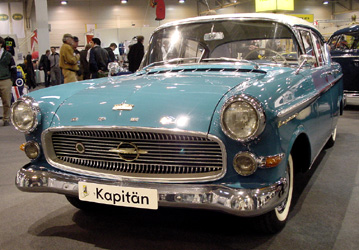 1958 Opel Kapitän with 2.5 litre 6-cylinder engine and 80 hp.
Opel
After successfully producing sewing machines and bicycles in the mid 19th century, Opel manufactured the first automobile in 1899 - a 1-cylinder three-seater with 3 1/2 hp, a volume of 1.5 litre and a maximum speed of 20 K/mh. In the early 20th century, the company expanded the line of production to motorbikes as well as trucks and delivery vehicles. The Opel Doktorwagen from 1909 was one of the first mass-produced German automobiles - more than 2500 units were sold in the first 2 years alone. More bestselling and innovative models were to follow. A 1913 race car combined - as a first - 4-valve technic and a overhead camshaft. In 1914 Opel is the largest German automobile manufacturer with a yearly production of over 3,500 vehicles and more than 20 different models.
The necessities of WWI cause a expansion of the truck production and by 1918 Opel holds the number one position with a total of close to 4,500 produced. The years after the war saw the type 18/50, the first Opel six-cylinder of 4.7 litre volume. But reduced demand for automobiles requires the company to change the line of production again and focus on the more affordable motor bikes. In 1924, Opel adopts the assembly line and starts producing the Laubfrosch - or leap frog -, a mostly light green painted two-seater, which would become the first German automobile to be produced in more than 100,000 units. In 1928 - as the top-of-the-line model - the Regent with 8-cylinders and 110 hp is introduced - at a price of more than 20,000 Reichsmark, the equivalent of a Mercedes-Benz Nürburg 500! In 1929, General Motors purchased the majority of the shares and influenced the future appearance of Opel automobiles. The styling would became americanized and even engines of american origin would be used for some models. By 1936, Opel is the largest automobile manufacturer in Europe and produces it's 1-millionth vehicle in 1940.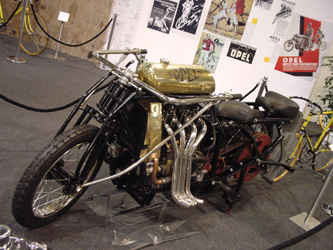 1930 Opel " Stehermachine " or "upright" - a pace bike
for indoor bicycle races with 4 cylinders, 2 litre engine
volume and 35 hp.