The Imperial Palace Auto Collection
Las Vegas, Nevada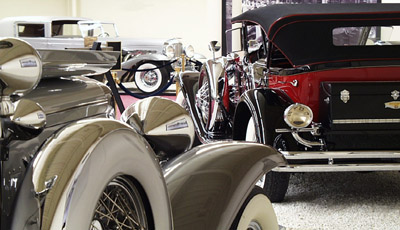 Centraly located on the Las Vegas Boulevard, the Imperial Palace is not just among the ten largest hotels in the world but also houses one of the worldwide largest classic automobile collections. The collection contains close to one thousand automobiles of which 200 are on a rotating display at the hotel.


(All images are 'clickable' for larger versions)
A special room inside the collection is devoted to Duesenberg automobiles. One dozen of these magnificent automobiles are on display.
(All images are 'clickable' for larger versions)

Two of the collection's
Isotta-Fraschini


1935 Hispano-Suiza
Type J12 Transformable
Body by Saoutchik


1928 Delage
ex King of Siam
The collection was built for those who see more in an automobile than a machine, more than a convenience, more than a necessity. It was built for those who belief that an automobile is also a vehicle for our dreams and memories.

1922 Renault Model 40 Towncar
Body by Kellner


1934 Tatra 77



1936 Mercedes-Benz
500K Special Roadster
(All images are 'clickable' for larger versions)
Marilyn Monroe's 1955 Lincoln Capri Convertible, W.C. Field's 1938 Cadillac V16 Touring, Tom Mix' 1937 Cord 812 Phaeton, President Eisenhower's 1956 Chrysler Imperial Parade Phaeton, John Jacob Astor's 1909 Mercedes Model 8/18 Town Car, the King of Siam's 1928 Delage, Mussolini's 1939 Alfa Romeo Tipo 6C - all these can be seen at the one or the other time within the rotating exhibition.

1929 Isotta-Fraschini Tipo 8A
Body by Derham


1930 Ruxton R30 Continental
Body by Budd


The display of fire engines
and early trucks
The Imperial Palace Auto Collection is open daily from 9:30 am to 11:30 pm.
It is located on the fifth floor of the parking structure of the Hotel & Casino.
Admission is $ 6.95 for adults, $ 3.00 for children 5-11 years of age and $ 3.00 for seniors.

Imperial Palace
3535 Las Vegas Boulevard South
Las Vegas, Nevada 89109

For Hotel Reservation please call
1 - 800 - 634 - 6441



E-mail this page to a friend
Classics.com Home