Winner 'Best of Show' of the 51st Pebble Beach Concours d'Elegance 2001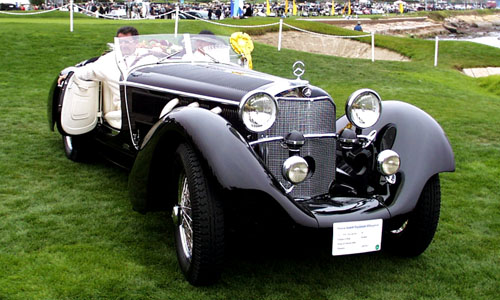 1930 Mercedes-Benz SS Roadster with Erdmann & Rossi coachwork

The owners, Arturo & Deborah Keller -
repeating the past success of 1986.


Before being judged the winner -
but already among our favorites.
| | | | |
| --- | --- | --- | --- |
| A view inside - the late style rearview mirror was added for the 50 mile Pebble Beach Tour on Thursday . | Some of the most unusual wheels on a Mercedes-Benz . | Erdmann & Rossi of Berlin-Halensee created this magnificent 'Karosserie' (body). | The SS chassis - although having just six cylinders - featured one more external exhaust pipe than the 500/540 K . |
For the 51st time, the Pebble Beach Concours d'Elegance presented the most prestigious classic car event in the world. This years' featured marque was Bentley, with automobiles displayed in three different classes. Other special classes featured Chrysler Town & Country, V-16 Automobiles, Ferrari and Hot Rods. A new 'Preservation' class has been introduced - dedicated to unrestored pre-war vehicles.

Two 1930 Bentley Speed Six Gurney Nutting Coupes,
the one to the left was originally owned by
Woolf Barnato - one of the famous 'Bentley Boys'.


1928 Bentley 6 1/2 Litre Open Two Seater,
with coachwork by Barker.
'Best in Class'


1929 Bentley Speed Six Cabriolet,
with coachwork from France by Saoutchik.

'Best in Class' &
'Classic Car Club Trophy'
1930 Bentley Speed Six Coupe,
with coachwork by Gurney Nutting.
Special displays were devoted to the 100th anniversary of the marque of Mercedes and to Ford's 100 years of racing. Several rare Mercedes, like the oldest existing one - a 1902 40 hp Simplex -, 1934 Mercedes-Benz W 25, and 1937 Mercedes-Benz W 125 race cars, or the 1955 300 SLR raced by Stirling Moss to win the Mille Miglia that year, participated in this years' event.


1955 Mercedes-Benz 300 SLR,
1954 Mercedes-Benz W196 Streamline.


1934 Mercedes-Benz W25 Grand Prix,
1937 Mercedes-Benz W125 Grand Prix.

Not your average Gullwing -
only two 300 SLR Coupes were ever produced, equipped
with an eight-cylinder engine similar to the W196.


1937 Mercedes-Benz 540 K Special Roadster -
one of the most beautiful Mercedes ever built .
Winner 'Most Elegant Closed'

1937 Alfa Romeo 8C 2900B Berlinetta,
with coachwork by Touring.
Winner 'Best in Class' as well.

Winner 'Most Elegant Convertible'

1938 Delahaye 135MS Cabriolet,
with coachwork by De Villars.
Winner 'Most Elegant Sports Car'

1956 Aston Martin DBR1.

Winner 'Most Elegant Open Car'

1914 Rolls-Royce Silver Ghost,
Labourdette Skiff.
Winner 'Elegance in Motion'

1932 Delage D8 Berline,
with coachwork by Henri Chapron of Paris.

Winner 'French Cup'

1938 Talbot-Lago T 23 Coupé,
with coachwork by Figoni & Falaschi.

Winner 'Alec Uhlmann Trophy'

1934 Hispano-Suiza H6C Convertible Sedan,
with coachwork by Fiol.

Winner 'Montagu of Beaulieu Trophy'

1939 Lagonda V-12 Rapide Open Two Seater,
with coachwork by Vanden Plas.
'Best in Class'

1923 Wills Sainte Claire A-68 Fisher Roadster,
with owner Tom Lieb.

'Best in Class'

1925 Voisin C3L Rothschild et Fils
Cabriolet de Ville.
'Best in Class'

1932 Lincoln KB Dietrich Coupe.

'Best in Class'

1933 Pierce-Arrow 1242 Convertible Coupe.
'Best in Class'

1915 Marmon Model 41 Speedster.

'Best in Class'

1929 Auburn 8-90 Speedster.
'Best in Class'

1955 Lincoln Indianapolis Coupe.
Exclusive study by Italian coachbuilder Boano of Torino.

'Best in Class'

1964 ATS Allemano Coupe.
'Best in Class'

1913 Mercedes-Benz 37/95 Tourer,
with coachwork by Labourdette. Another one of our favorites and entered by the Nethercutt Collection.

'Best in Class'

1935 Duesenberg J Torpedo Phaeton,
with coachwork by Walker La Grande.
Fashion & Automobile

In the original concept, a Concours d'Elegance was not just about fashionable automobiles - it was about Haute Couture as well. Several of the participants dressed up accordingly...


Mrs. Cantore, wearing an original thirties design
complementing her 1938 Talbot-Lago T23.



Mrs. Kerr, matching the color of her
1955 Lincoln Indianapolis Boano Coupe.



Mr. Otis Chandler, in the most colourful
sweater on the green at the 18th hole,
and his 1913 Pope-Hartford 29 Roadster



Mr. Phinny Junior, outshining his parents
1929 Packard 645 Dietrich Roadster.
Concept Cars at Pebble Beach 2001



Spyker C8 Spyder from the Netherlands.
Featuring an Audi 4.2 litre, 400 to 450 hp V8
with four ohc and 6-speed transmission.



Aston Martin 'Twenty Twenty by Italdesign.
Powered by a 12-cylinder of 5.9 litre with 500 hp.
The 2003 Pebble Beach Concours d'Elegance is scheduled August 17th, 2003.




Please don't miss our reports about the Monterey Historic Automobile Races 2001 and the Concorso Italiano 2001.


Other Classics.com Features :

Pebble Beach Concours d'Elegance 2003

Pebble Beach Concours d'Elegance 2002

Pebble Beach Concours d'Elegance 2000

Pebble Beach Concours d'Elegance 1999

E-mail this page to a friend
Classics.com Home
---
© 1999, 2000, 2001 Classics.comTM
with permission of Pebble Beach Concours d'Elegance
All Rights Reserved
Disclaimer